Oct 02 2019
No. 111 on old hardcopy list of 113 club tramps. "Bus Trip. Walk Millers Flat to Beaumont"
5. 2/10/2019. Both. Bus Trip. Millers Flat/Horseshoe Bend – Beaumont. Rail Trail-Road/ORC Millennium Track-Road. M. Eleanore and Bob.
On a chilly spring morning, 45 members assembled at 8:15 a.m. eager to board bus and head Central for a walk along the Clutha Gold Trail.
We arrived at the Island Block entry at 10:10 a.m., luckily to a convenient hay barn where we had smoko.
This was followed by a show of hands to see who was keen to layer up and head off in a shower of rain—17 accepted the offer to hike 3km round the hill track …
… to the Horseshoe bend swing bridge crossing the Clutha …
…  to meet up with the rest of the group.
Meanwhile, we travelled to Millers Flat, crossing the Clutha and turned right heading back down the rather narrow gravel road (managed to meet a twin cab and trailer coming our way, he backed off and let us through).  We passed the Lonely Grave site, then soon after arrived at Horseshoe Bend.  Car Park was probably not designed as a bus turn, however, Wayne successfully manoeuvred his bus turn.
The majority got off in sunshine
to head along the trail.  Looking back we spotted the first group hot on our heels.
The Ramblers were happy to enjoy the bus trip back to Beaumont where some intended to hike along from the bridge and back.  I also  heard a whisper on the bus, some were happy to try out lunch at the hotel.
We stopped for lunch
by a little old shed and cattle stop at 12:15 p.m. for half an hour firstly in sunshine,
followed by another shower (Lots sheltered in the shed).
We all set off
enjoying looking at fresh bright willow leaves, healthy Hereford cows,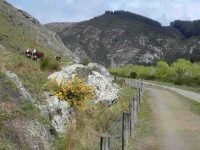 the mighty Clutha,
blossom
and particularly the easy grade of the track.
We arrived back to the bus …
… at 3.00 p.m. after a 14km (17km) trot along the trail.
Afternoon tea was pre arranged at the hotel for $10.  We were greeted with very friendly staff and a great spread, including scones with jam and cream!  YUM.  We thanked them and they thanked us for the business.  Was great to observe how happy everyone was enjoying catching up with each other.  Particularly, with Judy Knox, who was on her last outing before moving to Townsville.  I am sure you will come back and visit us Judy.  We sure will miss you!!
We arrived home about 5:15 p.m. after a great day out.  Thanks to the Club for subsidising the bus.
Eleanore and Bob.