May 22 2019
Gabriels Gully. Key to Maps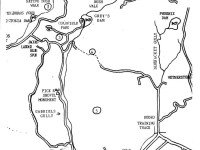 5. 22/5/2019. Trampers. Weatherstons/Blue Spur (Gabriel's Gully)/ Munro Gully Track/ Glendhu Forest/ Weatherstons Phil
You can't beat Kiwis for turning up on time to start a tramp ….we may have even been a minute or two early leaving, so keen to get going….and yes red sky at dawn shepherds warn is just an old wives tale.
17 folk emerged from the cars at the Lawrence Loos before heading out to Weatherstons (population in 1862-500), off the Waipori Rd and we were on the walk at 9.45 am in a less than balmy 6 degrees, so we decided to walk up to the ridge for half an hour to find the sun to have a cuppa; this would not be the first time the craic would abate on a hill……on along the ridge we shambled giving good views of the hills and ridges that had been washed away by the mining activity…. then we dropped off quite quickly in to Gabriel's Gully, the majority entering through a high quality fence, with the barbed wire held high by some real gentlemen in the group!
First stop was a small detour to take in the reflections and tree colours at Greys Dam
and from there we moved up and around the track at the base of Blue Spur, the manmade landscape reminding one of the Arches National Park in the good old USA.  On past the Northern Ireland Battery and then it was across Munro Rd to the start of Munro Gully track (population in 1862-500!). Population today 1 dead pig in the middle of the track who's gut and entrails having been devoured by the 'hound of Gabriel's Gully'.  There was still some colour in the trees over Victoria Dam to offset the gruesome find.
Munro Gully track was a steady to steep in places 50 minute ascent through native forest, with a good sprinkling of red and mountain beech, ferns, astelias, red berried coprosma (yummy).  Regular forest glades allowed time to regroup as well as start up the craic again.   Bird life was good on the sunny side of the street. Lunch was taken slightly ahead of the guides predictive time, on the edge of Glendhu Forest, as the pine needles were dry and it was sunny, and well some smiles were more like grimaces as we finished off the last of the steep stuff.
It was a pleasure to walk on pathways of thick beech leaves, and later pine needle.
Post lunch immediately brought some negative feedback as we were still heading up a hill! But then it was onto and down and around Cornishman's Dam to emerge on Munro Rd thence back into Glendhu Forest and following ridge and water races quite steeply we 'sped' downhill; some impressive remnant piping systems were still viewable and the depth of the races stirred memories of WW1 trenches; it was at this point we became aware of eyes in the forest following us. Yes the famed Gabriel's Gully herd of black mink coated goats were almost playing chicken with us, dad wives and kids all shambled off in due course – as did we!
We emerged in to a golden coloured forest and climbing a style dropped in to Pollard's Dam which was dry – phew.  After soaking up more history we detoured into the Raceman's Cottage site for more history, with some plant life remaining from the cottage garden.
Family names of Racemen of that time were familiar to an attendee of Green Island primary school in the early 1950's.
From here it was a steep drop off back into Gabriel's Gully
and a quick breather, but not wanting for folk to get too comfortable we were soon up and at it again, the walk back over the ridge to Weatherstons seemingly so much quicker on the return journey, maybe it was the smell of the coffee n cake wafting up the valley from 26 On Ross, which we were all highly complimentary of,
and yes the loo had the most vicious but effective hand drier in the whole wide world.  Art can also attest to a great ice cream at the corner shop.
17 trampers returned to Mosgiel, commenting it was good to feel a little stiff and sore, a moderate level of comfortable discomfort.  The linking together of a number of stand alone walks in to one had made for a day of history, interest and variety and it was almost unanimously agreed to be a walk of just under/ or over 15 km – or thereabouts! – Phil.
4. 7/10/2015. Both. Trampers: Otago Dam. Hikers: Rail Trail, Munro Road. Leaders: Dorothy, Chris, Bev.
TRTC Bus Trip to Lawrence
On a very warm but windy day, at 8.35am, 44 members, including two guests, set off for Lawrence. We arrived soon after 9.30am after a comfort stop in Lawrence. 29 hikers were taken to the picnic area at start of Clutha Gold Walking & Cycling trail that goes to Roxburgh and 9 trampers were taken to Gabriels Gully from where they were starting their tramp. The remaining 6 who had come along to enjoy a day out in the company of fellow club members, remained on the bus and were taken back to Lawrence to spend the day there checking out shops, museum, information centre and eating places.
Hikers started off along the trail about 9.50am and walked for about ½hr till we came to suitable place to sit and have a welcome cuppa …
…before carrying on to where the trail crosses the main road to carry on to Roxburgh.
Here we stopped to sort out those who felt they had walked far enough from those who wished to carry on along Munro Road to Gabriels Gully.
There were 8 who opted to wait for bus to take them to Gabriels Gully where they had their lunch and waited for rest of us to walk there via Munro Road. They found it hard to find a place out of the gale force wind to sit and enjoy their lunch but did find somewhere reasonably sheltered in the end.
The remaining 21 hikers set off about 11.30am along Munro Road having decided to try and find a suitable place to have lunch about 12.30pm. Wind by this time was getting worse but we did find a reasonable place with some shelter from wind and sun, which by this stage was getting pretty hot. From here those that were going to do the Interperative track when they got to Gabriels Gully, 15 of them, set off before the remaining 5 of us who had decided we would just take our time doing the rest of walk to Gabriels Gully. Well, taking our time was not an option but a necessity! The wind kept coming in violent gusts that were threatening to bowl those of us of smaller stature completely off our feet. It was a case of us hanging on to each other to keep our feet on the ground! What a very welcome sight it was to get to top of hill and see the bus waiting for us at end of road. We had walked about 11km and with battling the wind as well as the walk, it felt like it.
By this time only the trampers had yet to be picked up and that had been arranged for 2.40pm. As it was only about 2pm bus took us back to Lawrence where we all went to various places for refreshment of choice, a look round shops or whatever one felt like doing to fill in time till 3pm when we were due to leave.
All back in bus and ready to set off for Mosgiel by just after 3pm. A tired but happy group who all agreed we had had a good day out in spite of wind and heat. – Bev.
Trampers' Report.
After an uneventful bus trip to Lawrence, the bus dropped 9 trampers at Greys Dam in Gabriels Gully, where we had morning tea, before tackling the track up to the Otago Dam …
… high above where we were. As the track had a closed sign on it, there was some questions as to whether we could negotiate it all the way up.
I was pleased to see the first creek crossing was low enough to get across without getting wet feet, however one party member [who shall remain nameless] decided she would tackle a slippery rock, & came off 2nd best, ending on her knees in the creek. No damage was sustained, except to her pride.
As we made our way up the track, the storm damage was very evident to see,
but there was nowhere we got held up due to fallen trees etc. as the track had been mostly cleared so you could at least keep going.
There are about 5 creek crossings to negotiate, but we all made it safely, with lots of encouragement, & directions on where to put feet, & what to hang onto.
On reaching the top at the Otago Dam, we all had a look at the very nice waterfall at the outlet of the dam, then we crossed over the outlet, & walked around the track along the side of the dam to get a better view. We then walked back down the track about 50mtrs. to a sheltered spot [it was blowing rather hard] for lunch.
After lunch we made our way back down the track, tackling the creek crossings with renewed apprehension,
& eventually arrived back at Greys Dam, where we had a short break before walking back to the car park in Gabriels Gully, & starting on the interpretative track around the gully perimeter,
ending up back at the car park just before the bus arrived to pick us up for the return trip home.
A stop for ice cream in Lawrence was enjoyed by most, before setting off homeward bound.
It was mentioned to me that the day was enjoyed very much, & that some were surprised by their fitness level.
Walked 9.4km
3.6km/hr
climbed 777mtrs.
max elev. 409m – Ken.
3. 7/10/2009. Gabriels Gully.
2. 8/10/2003 Gabriels Gully.
1. 15/3/2000. Bus Trip to Lawrence. Interesting tramping-walks. Leaders: Ria L, Catherine, Irene, Donny.