May 01 2019
Macandrew Bay, Company Bay, McTaggart St, Camp Rd, Pukehiki, Greenacres St
Distance from car-park: 24 Km.
MacTaggart St track closed for lambing September and October.
4. 1/5/2019. Both. Macandrew Bay, McTaggart Street, Lanarchs Castle. Leaders: Jill and Noi.
A most perfect day greeted 47 eager members at the carpark from where we ventured down to Macandrew Bay carpark, on the Otago harbour.
The harbour was mirror like …
… and the surrounding countryside pristine so what a great start on our Peninsula experience.
We walked from Mac bay to Company Bay around the designated harbour walkway to the Yellow eyed penguin plant nursery at the start of the McTaggart track.
Here we were greeted by Louise the supervisor of the nursery.
She spoke to us on the process of collecting the seeds locally to the germination, to seedling growth and then the seedlings 2 years later being transported to various locations where there are protected penguin colonies. Most are on our Peninsula, the Catlins and north of Dunedin at Bushy beach. These are native plantings to provide shelter to try to help protect our falling numbers of penguins. Some penguins also suffer from avian malaria which is incurable.
After morning tea we proceeded up to the McTaggart track and across marked farmland. From here the group split and 7 decided to proceed down to Broad Bay and walk back to the parked cars while the rest of the group climbed several steep stretches and across more farmlands towards Larnach Castle.
The day was very hot so members were advised to set their own pace and we became quite a spread out group but Noi our tail end member quietly encouraged them onwards and upwards.
Delta employees were tidying up trees on Camp Rd behind Larnach Castle so we continued to walk to the blue stone accomodation to have lunch where we sat on the slope in front
and had the most spectacular views up and down the harbour and still no wind. Further along the road we passed the Pukehiki church over 150 years old some members walked around the grounds. Along Highcliff Rd further to the Greenacres track which was down all the way to Mac Bay again passing through bush  areas with some birdsong and views of the harbour.
Options were either ice creams at Mac Bay or coffee at Nichols.
It was approx a 10 k walk.
I just want to put out a reminder.
Before any tramp summer or winter always have a good breakfast,
carry water and sip frequently to keep hydrated,
wear a hat and
have a substantial lunch to give you the fuel to provide the energy to keep going.
Jill and Noi.
3. 29/8/2012. Trampers. Macandrew Bay, Company Bay, MacTaggart St, Camp Rd, Pukehiki, Greenacres St.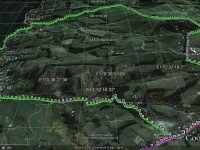 GPS of route, courtesy Ken.
343mtrs total ascent

2. 30/1/2008 Trampers. Macandrew Bay, Company Bay, MacTaggart St, Camp Rd, Pukehiki, Greenacres St. Leader: Bruce
Under cloudy skies, an aggregation of agile adventurers (at least in spirit), set forth, at 9.45 am, from Macandrew Bay on the harbourside road to Company Bay. A viking-like double hulled vessel with Chinese inspired dragon heads on the prows and supporting a Jolly Roger flag reminded us not to be too serious. After passing some harbour reclamation where gravel had been dumped on a grey matting we turned up MacTaggart Street and passed the plant nursery for the Yellow Eyed Penguin Trust.
We feasted on views down the harbour during a morning tea break on a bank under pine trees before venturing on to a grassy track in a secluded dell.
We emerged past a Peasgood Nonsuch cooking apple tree in a rejuvenated orchard before joining Camp Road leading up the hill from Turnbull's Bay. We sweltered under the sun. We admired the view of Harbour Cone and some of the land the Council has purchased between it and Peggys Hill and searched for the remnants of native bush that will be preserved as habitat for jeweled geckos and red admiral butterflies. We applauded, at least in part, Peter and Ian having written to the DCC supporting the appeal for the purchase. Entering a wooded glade on camp road we were struck by the multiple stranded barb wire fence guarding the property of Larnach's Castle from those unwilling to pay the $10 admission fee to the grounds. We ate our lunches near the entrance and watched vehicles queueing up to enter. Appreciating a cooling breeze, we admired the new Bluestone House on Camp Road, with imposing gates, built in the University of Otago building style with volcanic basalt faced with Oamaru Stone. After contrasting it with the timber piles for the historic Pukehiki Church and checking on the books at the Portobello Library next door to it (and not quite at Portobello), we descended down the Greenacres Street track noting the entrance is not sign posted and appears to come off a private driveway. It was nice to walk on the secluded tree-lined flatter portions on the track but the steeper portions were hard on some knees. Seventeen tired trampers then gathered in the Greenacres Street cemetery around the grave of James Macandrew, four of whose nine children are remembered in Marion, Jane and Featherstone Streets and at Colinswood, before arriving back at our vehicles at 1.55 pm. One idea that emerged on the walk was that rather than covering up the historic stone wall lining the harbour road, built by Maori prisoners from Taranaki, to provide space for walkers and cyclists a board walk might be built by driving tanalized piles into the water alongside the road as in a Marina. It would be something unique but the expense and maintenance might be a problem. If the Boulder Beach tramp for next year can be scheduled for late February when the beach is not closed for penguin protection we may try a round trip starting at the top of Buskin Road, proceeding along Highcliff Road and down Paradise Road, visiting the beach and then returning up Buskin Road. – Bruce
1. 8/10/1997. Broad Bay, Larnach Castle area via Camp Road. Leaders: Chris, Ngaire and Doug.