Aug 22 2018
Harbour Cone, Broad Bay, Turnbulls Bay, Bacon Street, Peggys Hill, Broad Bay
No. 49 on old hardcopy list of 113 club tramps. "Harbour Cone, Peggy Hill Larnach Castle – Farm"
Location: 32 km.
Trampers park cars at Broad Bay. DCC Public Land; Hikers park at top of Bacon Street.
17. 22/8/2018. Hikers. Harbour Cone Walk. H. Leaders: Jim and Betty.
18 Hikers started off at sea level
and most made it to the top or 12,370 steps and 121 floors up to the summit.
The weather was cold, damp and could have been kinder for us.  The surrounding views were some-what reduced.
A very memorable walk. – Jim and Betty
16. 2018-07-11. Trampers. Harbour Cone. E-M. Leader: Arthur.
A very pleasant sunny mid-winter's day arrived for our weekly outing.
The cars parked at the Broad Bay Boating Club and 13 trampers went off walking along the harbour side to Bacon Street.
Morning tea was taken in the dry area under some large pine trees,
near the beginning of the walking track.
We followed on up the old Bacon street walking rack to the road.
After crossing over (why did the chicken cross the road?) we found that the stone ruins of the old Allen House had been fenced off. Some timber framing, also new, was obviously in place to support the stone wall and prevent it toppling over.
From the ruins it was uphill all the way, but in time we picked our way through the rocks onto the summit of Harbour Cone. But the effort had been worth it as the scenery was magnificent.
The sunshine, and lack of any breeze allowed us to enjoy our time on top.
A cool breeze arrived just as we began the descent.
At 12 noon we found a sheltered spot (out of that breeze) to partake of the contents of our lunch boxes, and with a view looking out over Hoopers Inlet and surrounds.
After lunch we soon crossed back over Highcliff Road, down hill in the paddocks for a little, before the steep little climb up towards the castle. Everyone needed a breather then, but the hard work was all over.
It was easy now to follow the contour before descending on Camp Road (unformed), but still with interesting views of the harbour and environs. We arrived back at the cars at 1-45 pm after an enjoyable tramp in superb mid-winter conditions – the northerly wind had increased during the afternoon. Our group of 12, plus 1 guest (Eleanor's daughter) had walked just over 10 km.
We drove back to Macandrew Bay and were shocked to find the coffee shop had closed down! After discussion we returned to Mosgiel and took our custom to the Blackstone Cafe, for our debriefing.
Several had intended having an ice-cream at Macandrew Bay (another shop) but didn't, in sympathy with the coffee drinkers, and so missed out entirely at Mosgiel – their sacrifice should not be forgotten!.
Thanks to all. – Art.
(15) 21/3/2018. Hikers. Bacon Street only.
The planned tramp to Harbour Cone had 22 trampers depart from Mosgiel in light rain.  During the drive to the start point the rain intensified, and it became a simple decision to abandon the tramp.  A coffee stop was suggested for the return trip to Mosgiel …
… which was attended by 19 of the party. -Cheers Jim.
14. 9/11/2016. Trampers. Harbour Cone.E+. Leader: Arthur.
The early rain cleared before assembly time at the car park and conditions were looking good. Ten eager trampers travelled in three cars to park by the Broad Bay Boating Club. The sky was brighter in the vicinity compared to the cloud down on the hilltops back in the city direction. A northeast wind to start with, which later turned southwest.
As an experiment we had decided to do this (circuit) tramp anticlockwise. The club had previously only ever gone clockwise. A short road walk back took us to Camp Road. The ascent was variable, with some easier gradients in between the steeper ones.
Morning tea was taken after 30 minutes with the worst behind us. From there the view was excellent and we could look across to Harbour Cone which seemed a long way off.
We continued uphill, gently now, past the two decrepit old buildings where "elf and safety" signs warning of the hazard they presented were noted. A little further and we turned left towards Harbour Cone, down hill. Funny, but it didn't seem that steep going down as it had climbing up that part on a previous occasion. And then up a little took us to join the uphill paddock track from Bacon Street. Easier going for a while got us to Highcliff Road, with a stile on each side to climb over. And then climbing some more.
A brief rest stop on Rocky Knob gave us good views, especially over Hoopers Inlet. On  a bit, before descending a little to view the ruins at Nyhon Farm (there is a sign at the site now).
From then on it was uphill all the way to the summit. Comments such as "don't look up", "take short steps", and "just keep putting one foot in front of the other" were heard. All good advice.
The cool (but not cold) wind was behind us as we climbed, and helped push us up, at least psychologically. In a short time we were picking our way through the rocks and came to the trig station on top.
The 360 degree views available to us were just a tad hazy, but the Mt Cargill mast stayed hidden in the clouds. What a great place to be! Not far below us, to the east of north, the white buddhist shrine stood out clearly in the sunshine. It was only 11.40 but on the summit was the only place to have lunch, even if a little early. Just over the brow it was sunny and nicely sheltered for this important ritual.
Thirty minutes for lunch and then it was downhill all the way.
We descended to the ruins of the Allen Farm
(no sign seen here), crossed the road, before going down the old track to Bacon Street.
A walk back around the harbourside took us back to the cars at 1.00 p.m. The day's distance was 8.25 km, not long perhaps, but we had quite a bit of uphill work. The summit of Harbour Cone is 315 metres by the way.
Several commented that doing an anticlockwise circuit had worked very well and it gave us the opportunity to have our lunch on the summit.
On the way home two cars stopped at Macandrew Bay to allow their occupants to visit the coffee shop. Another very enjoyable day's tramp out on the fresh air over. – Art.
13. 22/7/2015 Trampers. Harbour Cone
I must be getting old, I put the group wrong on where we were starting the tramp from, I had it in my mind that we were going to Portobello — how wrong was I !!! I apologise for the mix up !
Anyway, after we arrived at Bacon St. we parked up & made ready for the days exercise. 10 trampers, some new to the group set off, & we stopped at the normal spot under the Macrocarpas just past the top end of Bacon street, where the ground is dry, for morning tea. For today's tramp, I had decided that we would go up the marked track in the paddocks, instead of climbing up the fence line track. This was a new way for all of us, which made it more interesting.
As we made our way up, I could see that it was going to be a longer walk going this way up to Harbour Cone, than the fence line track would be. However the gradient is much more gentle.
We all made it to the top of Harbour Cone, some in better condition than others !! So we spent some time up there admiring the views,…
… & resting up before carefully negotiating the boulders on the way back down.
Now, there was a water trough down near the bottom where you go through the gate by the stone wall in the next paddock, this water trough is fed by a pipe running down the hillside from above, & it is constantly overflowing, with the ground around & below it VERY WET, So, what does one member do — he walks down through the wet patch & promptly falls on his butt, then after standing up, he repeats this, just for good measure, & to make sure he was well covered in mud.!!! He arrived at the lunch stop by the stone wall looking very muddy & wet.
After lunch, we retraced our steps down into the valley, then up the other side to the Camp Rd. track below Larnachs Castle. This climb was almost the last straw for a couple in the group, but with some help everybody made it up there, & we had a lengthy rest break here for them to regain some energy, before setting off down Camp Rd.
When we reached the car park with the toilet in it at broad Bay [ where we should've stopped originally !!] I suggested that anybody who wanted to wait there could do so, & we would pick them up on the way back from getting the cars. this suggestion was eagerly pounced upon by 6 members of the group. [ now if we had parked there in the morning, all party members would've had to walk the full distance, so my mistake let them off the hook !]
The other 4 of us walked back to the cars, & then returned to pick up the 'survivors', & then we headed off to Macandrew Bay coffee shop for a chat session, & to keep up the 'Trampers Coffee Club' tradition.
I hope this trip which is really quite hard, doesn't put off the new members we had on this tramp, as most of our tramps are not this steep. So hope to see you all again next week for our assault on Swampy summit.
12. 12/2/2014. Hikers. Harbour Cone from Bacon Street in Turnbull Bay. Leaders: Dorothy and Chris.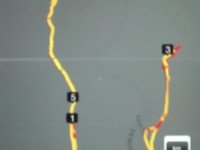 Discretion being the better part of valour, the leaders spurned the steep fence track, choosing instead the much more graduated DCC yellow poled line one to the right, despite its many fence stiles. We had our cuppa amongst the clump of macrocarpa trees, (a point where a side track leads off to the right, through a gully and steeply up to underneath Larnachs Castle). But after our stop, we carried on up and across Highcliff Road to turn left and further up to Rocky Knob. Here the leaders and one or two others forewent the option of going further, allowing a hardy 12 to go over and across the next paddock, down through the gate by a stone wall and on up endlessly, it seemed, to the rocky-strewn summit of Harbour Cone.
We returned down to lunch on the stone wall before going on to join the others on Rocky Knob. Then it was just simply to retrace our steps back down to the cars. Threatening rain on a couple of occasions failed to eventuate. The day was lovely and calm and not too hot. A perfect and satisfying tramp, well-planned by the leaders. – Ian.
11. 21/8/2013 Trampers. Bacon Street, Harbour Cone, Rock Knob, Camp Street.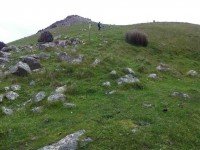 After Harbour Cone climb, we went round via Rocky Knob and under Lanarch Castle. Half of us chose to go partly by Highcliff Road and then contour round Peggys Hill, the other half to follow the track poles over paddocks, deeply down through a gully and then very STEEPLY up to meet the others under the north side of Larnach Castle, where we lunched. – Ian
Hoopers Inlet to Highcliff Rd. Otago Peninsula
Accessed from Hoopers Inlet Road. 2.20 ret. Route. Manager: DCC CAM
Very steep track. Suitable for experienced and agile parties only.
10. 28/4/2010. Trampers. Harbour Cone from Hoopers Inlet Track and Nyhon Track. Hard. Leader: Ian
The day was fine. A week of wet weather had stymied any recce, so this was it. Thanks to Antony Hamel's description and map in his book Tracks and Trails around Dunedin, the leader was confident we could readily find our way. Not. First mistake up the Nyhon track was to turn right at the first stile. (It should have been the second). However, an inviting gully presented itself, so this was the route up, we thought. Not. It was very steep but we made it to what we first thought must be Rocky Knob, even if it looked a little different from what some of us remembered it as.
Morning tea in the sun on the knoll was very pleasant. But confusingly, a small distance away was another knoll, slightly higher.
This too, when reached, didn't quite match up to our recollections. It was only when we had made our way through an old homestead macrocarpa-surrounded block of stone walls
and up a further rise that we realised where we really were.  There, down a slope to our left was the obvious vehicle track that descends from the true Rocky Knob. An easy walk up, and we were there.
From there it was over well-remembered ground
to then grind our way up to Harbour Cone.
A short stop to admire the view and then back down again, across to Rocky Knob, and down the vehicle track to zigzag  into the gully below the knob – the gully we should have taken on the way up. There we stopped for lunch.
and were met by Ken who had more adventurously taken the original steep descent down through the bush.
He had made it all right, but not without entangling a hand in some vicious bush lawyer.
After lunch, accompanied by the squawks of a complaining bellbird, we made our way down through some bush, and across some marshy reeds on a narrow netting-covered boardwalk.
But then, surprise. Markers took us up steeply to hug a fence line over a rise to descend further along, now very steeply and to the marshland again.
Another board, bridging a stream, stile to climb and we were out into a grass paddock again.
Before us loomed the Nyhon Track climbing (plenty of steepness again) up over a hill. We had plenty of time available so we decided to follow it across to Sandymount Road. It was muddy and slippery but we made it. (Was this now the fourth or fifth hill we had climbed that day?)  At the top we decided to carry on to Sandymount Road rather than retrace our steps back down again) and do a round trip. At the road,
we carried on down and back across to Hoopers Inlet and the cars. It had been a good hard day, but all seemed to have enjoyed it, even a visitor who had learnt about us and had seen the website. And there were nine of us too. We had done good, to quote a client's words to his barrister. – Ian
9. 8/12/2010. Hikers. Harbour Cone. Leaders: B Harvey, C Hughes.
8. 15/7/2009. Trampers. Bacon Street, Harbour Cone, Rock Knob, Camp Street.
We were immediately into macrocarpas and elected to stop here for our morning tea.
Despite DCC-inserted yellow-topped poles leading off up a valley, we stuck to the original public walkway taking us directly up the steep hill to the macrocarpas on Highcliff Road. Across the road and past the building ruins we turned our attention to the relentlessly steep ascent of Harbour Cone. The polled track took us straight up and through the boulders at the rocky top to the trig.
Amongst the wonderful views was the sight of two strange monuments in a property above Portobello as seen in the following pic.
Returning down the south side of Harbour Cone we stopped for lunch in the saddle between the Cone and Rocky Knob. Then it was up a stone-walled track to the Knob. A virtual former cliff-face track led down to Hoopers Inlet, although now a new polled track made an easier descent around a farm track to the left, but that was not the way we were going today. We stopped to enjoy the sights of Sandymount, Hoopers Inlet and Varleys Hill but it was too windy to tarry.
Going on down and back to Highcliff Road, most elected to go on up the road to enjoy a more level approach to Camp Road while four hardier (stupid?) ones took the yellowed poles track on across the road, down through a deep gully and then very steeply up to join the others where Camp Road enters the trees under Lanarchs Castle. Here we could take in another wonderful number of views.
The poled track took us around a contour under the Castle to eventually go steeply down into Broad Bay and so back to the cars. – Ian.
7. 30/11/2007. Broad Bay, Harbour Cone, Peggy Hill. Leaders: George
6. 11/7/2007. Trampers. Park Broad Bay Boat Club. Turnbull Bay, Harbour Cone, Peggys Hill. Leaders: George, Glenis
5. 2/12/1998. Harbour Cone, Peggy Hill – Larnach Castle. Leaders: Chris, Ria H, Jean.
4. 23/7/1997. Broad Bay, Peggys Hill, Larnach Castle Road. Leaders: Doug J, Irene, Jack R
3. 8/6/1994. Harbour Coone. Peggy Hill. Leaders: Jack R, Bob H, Barbara, Peg C
2. 29/1/1992. Harbour Cone. – A good warm up to start the year. Average+. Leaders: Jack R, Ted, Betty B, Jean A, Peter R
1. 21/12/1988 Leaders: Chris, Ria H, Jean.