Dec 12 2008
Leith Saddle Board Walk Change
An email received by the Secretary this morning reveals that DOC "have cut up hundreds of metres of serviceable board walk".
"DOC have changed the course of the lower section of the track and cut a new swathe through the bush that is probably 200 meters long and 5 meters wide in places."
"The new track is a bed of gravel between timber side boards."
"The digger being used has destroyed the undergrowth and exposed the soil adjacent to the track. The canopy has been opened by felling."
"Many trees and tree ferns have been felled. Some trees hundreds of years old."
The writer says (in his letter to DOC): "I am writing to strongly object to the methods being used on the upgrade of the Leith Saddle boardwalk track. … Were any track users consulted about the serviceability of the boardwalk or about what it was to be replaced with?"
A committee member suggested we would need to view the track changes (which we haven't yet) ourselves before pursuing the matter.
We await further developments… – and (22/12) here they are: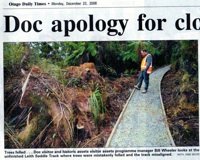 "Native cedar trees in a 'regionally distinct' cloud forest remnant have been mistakenly felled by the Department of Conservation during a major upgrade of the Leith Saddle Track, forcing an apology from Otago conservator Jeff Connell."- See ODT 22/12/2008. page 5 for a full report.
So good on our emailer, Lindsay Graham for drawing attention to the cedar felling.