Feb 13 2008
Holmes Track, Pigeon Flat
No. 41 on old hardcopy list of 113 club tramps. "Holmes Track. Pine Hill. Farms. Year Round"
13/2/2008. Holmes Track, Pigeon Flat. Leaders: Peter and Wendy.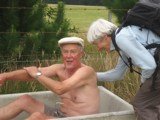 Although the day was a bit overcast it
was really the perfect weather for tramping as it wasn't too hot. Eleven hikers met at the top of Pigeon Flat and parked our cars well down the road by Gordon Anderson's farm and set off on what was a very interesting and enjoyable hike. Followed what is probably a 4WD track for a couple of kms till we came to a good spot to sit and have our morning tea break. The track goes round the side of Mt. Cargill till eventually we came out onto the old north road. To get there we scrabbled through some rather overgrown bits, climbed a few fences and went through the odd gate. But it was such lovely scenery and bush to walk through, the views were magnificent, in spite of it being somewhat overcast. We walked down the road for a way and then back onto the track where we had our lunch. As we walked through some of the native bush on the northern slopes of Mt Cargill we saw bellbirds, tomtit, fantail, gray warbler, pigeon, and we ate our lunch to the many sounds from a flock of brown creepers. (This information is from our very own specialist on bird life, Lesley G. She was also able to tell the names of all the native trees and bush we walked through.) After a very pleasant break for lunch,we carried on on the round trip back to the cars. All agreed it was a really good hike and we all thoroughly enjoyed it. Bob M kept us entertained, sitting in old clapped road works vehicles, in an old bath by the side of the road and getting his photo taken in them all. – Bev.
29/3/2006. Trampers. Pigeon Flat, Holmes Track, Old Main Road. Leaders: Peter and Wendy, Doug M, Les S.
19/6/2002. Holmes Track, Smith Farm, Old Main Road. Leaders: Margaret and Les, Doug J.
31/10/2001. Holmes Track – Smiths Farm – Old Main Road. Easy+. Leaders: Doug and Myrie, Donny.
29/9/1999. Pigeon Flat to Old Waitati Road. Leaders: Ria L, Val, Jack R.
8/7/1998. Sawyers Bay, Grahams Bush, Holmes Track. Leaders: Ray and Diana.
16/4/1997. Pigeon Flat – Smiths Farm – Old Waitati Road. Leaders: Irene, Ria L, Barbara McC.
22/11/1995. Pigeon Flat Road to Old Waitati Road Holmes Track. Medium. Leaders: Les W, Margaret and Les, Jack M.
1/2/1995. Pigeon Flat, Old Waitati Road. Medium. Leaders: Ria L, Catherine T, Les W, Ray
2/6/1993. Holmes Track – Pine Hill. Medium+. Leaders: George, Les W, Joan H, Chris.