Mar 16 2016
Warrington
Distance from carpark: 40 km.
7. 16/3/2016. Hikers. Warrington. E. Leaders: Judy, Shona.
Trip Report Wednesday 16th March 2016 – Warrington Beach
A calm but overcast morning provided good tramping weather for 23 hikers. We left the cars at the picnic ground and a half-hour walk took us up Hill Road to the junction with Park Road then round to the Esplanade for a pleasant morning tea just above the beach.
After a quick scramble down to the beach, it was a short walk to the track leading back to the Surf Club. Here we turned left along the track through the pines, to reach the sewage ponds after about 30 minutes. The track to the left led us back to the beach, and a long trudge to the end of the spit and an early lunch, disturbed only by loud screams from Liz as a mouse invaded her territory.
As it was just past high tide the beach on the inlet side was still covered in places and the sand very soft in others. We alternated between beach and the track above for some way
before returning to the main beach and the walk back to the cars. This was a short but pleasant hike, and left plenty of time for the now customary coffee stop at Blueskin Nurseries. –  Judy and Shona
6. 30/10/2013. Hikers. Warrington. Leaders: Peter and Wendy
5. 4/4/2012. Both. Warrington beach. Leaders: Margaret and Les.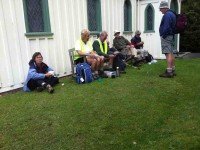 4. 13/4/2011. Hikers. Easy. Leaders: Bev, Lesley.
3. 13/1/2010. All. Picnic at Warrington. Leaders: Bathgates.
2. 15/11/2006. Hikers. Warrington. Easy. Leaders: Bev H, Bev M.
1. 20/1/1993 All. Beginning of Year. Picnic at Warrington. Bring your grandchildren. Leaders: ?