Jul 10 2019
Maori Peak, Split Rock
No. 15 on old hardcopy list of 113 club tramps. "Seacliff. Enchanted Forest & Maori Hill. Farm."
46 km from car park.
15. 10/7/2019. Trampers. Maori Peak and Split Rock. Neil and Margreet
Fifteen keen trampers set out from Seacliff on a cool but calm mid-winter's day. After a short climb on the the road, we made our entrance onto private farmland and stopped for morning tea track-side in a shady area of native bush.
We climbed steadily on an old coach road/farm track to the top of the hill where we could take in the magnificent vista from Waikouaiti to Taiaroa Head. Seawards, the off-shore mist blanked out the horizon so that a mighty container ship at anchor truly looked "as idle as a painted ship, upon a painted ocean." (A description penned by poet Samuel Taylor Coleridge in 'The Rime of the Ancient Mariner'!).
Thirty minutes later we sidled downhill
to reach Maori Peak, which is a bit of a challenge to ascend
– especially the rock face near the top. However who would want to miss the stunning views over the sea and surrounding countryside?
Being too early for lunch, we set out for Split Rock.
Today we chose to go via the bottom road to avoid boggy areas and a paddock full of ewes that the farmer requested we do not disturb. At a stock yard immediately below Split Rock we re-entered the Penno farm and encountered a nuggety little climb up a gully to the ridgeline. A handy log provided a convenient backrest for lunch overlooking Karitane township.
Split Rock never fails to impress; especially since at least half of our team had not been there before. The bright red lichen and the narrow cleft through the rock
are spectacular. Most trampers also climbed onto the top of this huge rock to enjoy more great coastal views. It was then an easy descent back to the road to the cars. Since we had a bit of time we went for a wander through the Seacliff Reserve before finishing the day with a coffee/tea at Blue Skin Nurseries.
Distance around 12 km.
Neil and Margreet
 14. 28 February 2018 – Maori Peak and Split Rock Margreet and Neil.
After parking the cars in Russell Rd (at Seacliff) 12 trampers set out on the day's hike. It was a calm, warm Dunedin morning and in fact during the course of the day the temperature got up to 24 degrees; so conditions were ideal.
We walked up the road, entered a farm, and enjoyed morning tea in a sheltered area past the wool shed.
Then we rambled through grassy paddocks until we reached Maori Peak at 11.30. It was a nuggety climb to the top but well worth it to get the spectacular coastal and mountain views.
Still too early for lunch so we descended and started making our way towards Split Rock.
We enjoyed a leisurely lunch at a sun-drenched 'possie' overlooking Karitane.
The hike through the paddocks to Split Rock was spoiled a little by waist high thistles
but we had forewarned our crew to wear appropriate protective clothing, so no real issue.
Split Rock was new to some and they were most impressed by the narrow cleft in the rock that we all had to squeeze through. The red colour of the rock lichen was beautiful
and there were also lots of bush orchids to admire. The views from the top of the rock were not to be missed.
Then it was an easy walk through paddocks and farm tracks back to the cars. Before going for coffee at Blueskin Bay we ventured into the Seacliff Recreational Reserve for a quick look at the memorial plaque that gives a brief history of the lunatic asylum that used to be there. The lawns are now beautifully manicured and it is a very peaceful place to reflect on the former infamous history of this place and its unfortunate inmates.
In all we hiked around 11 km and comments about the day were very positive.
Margreet & Neil
13. 21/10/2015. Trampers. Seacliff, Maori Peak, Split Rock.
On a very windy day, 12 trampers set out for the walk to Maori Peak, & Split Rock. After walking up the road, we had morning tea at the woolshed …
… before setting out for Maori peak, where some clambered up to the top for a look around. We then had a leisurely early lunch …
… before heading off to Split Rock.
There were a few in the group who had not been here before so they all had a good look around,
& some even climbed up onto the top for a great view.
On the way back, the majority of us decided we would follow the farm track back out to the road, while 3 others decided they knew best & went out the way that we had returned on a previous trip. Having now done the return both ways, I think i prefer the walk back through the paddocks, instead of the farm track, which is a bit boring, although it does offer some new views.
When everybody was ready to leave, we all decided that a stop at Blueskin Cafe was a good idea to keep up the coffee club tradition. On the way to the cafe, we caught up with the steam train that was visiting Dunedin for Labour weekend [powered by the steam engine 'The Passchendaele"] which stopped at Waitati, where some of the group went to have a look at it.
Apart from the strong wind all day, everybody enjoyed the walk.
walked 9.1km
4.1km/h
climbed 530mtrs. – Ken.
 12. 18/6/2014. Trampers. Seacliff, Maori Peak, Split Rock. Medium.
Mud, mud, glorious mud !!!!
From the above statement, you will have guessed that we had a very muddy tramp. We started early as one of our party had an appointment at 3:30pm, so we had to be sure of getting home in time for that.
When we arrived at Russell Rd. outside the Truby King Reserve, the condition of the road surface gave us a taste of what was to come, it was very wet & sloppy. As we walked up Russell Rd. the farmer came by on his tractor, so we had a good chat with him before moving on to the top of the road & into the farm land where we had morning tea at the woolshed not far from the road. We squelched our way over to Maori peak, where some climbed to the top to admire the view, & then it was off again retracing our steps back up to the top, & around to Split Rock, where it was obligatory for some to make their way through the split, & back again.
We had lunch at Split rock,
then it was off for more squelching back to the cars for an early trip home. It was a good walk, made harder by the amount of mud we were carrying on our boots, & by the very wet/soft ground.
We walked 9.4km; moving time 2h 17min; ave 4.1km/hr; climbed 342mtrs; max elevation 431mtrs. – Ken
11. 25/7/2012. 7 Trampers. Seacliff, Maori Peak, Split Rock. Medium.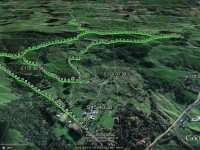 2h 39min actual moving time
311 max elevation of walk
GPS of route, courtesy Ken.
As you might determine from the GPS of the route,  we pioneered/recconnoitred some new ways of connecting Russell Road, Maori Peak and Split Rock, some better, some worse.
By going across at the immediate end of the road, we avoided having to climb the paper road over the top and the deep gully across to Maori Peak. Our gradients were more gradual. Bravo. However, on the return, at the large water tank, instead of going down, we went across and got into a no-trespassing area. (Compare route on map below on previous tramp for difference.) So, we climbed up and up and came out at the top of the road again! Ah well, it was still a good day out, and the extra exercise did nobody any harm. – Ian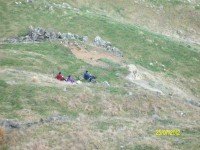 10. 10/3/2010. Trampers. Seacliff, Maori Peak, Split Rock. Medium. Leaders: Ken, Hazel, Ria.
We were late arriving at Russell Road, delayed by a Fulton Hogan "mill" relaying a long stretch of road near St Barnabas Church. We morning-tead up the road, crested the ridge and then down to avoid the heavy gorse infestation to skirt a large winter turnip paddock to make our way down, across and up to what Ian was sure was Maori Peak.
It wasn't. So it was down again and on, down, and then up to the real peak.
Several of us scrambled up its last steep ascent to lunch on the top and drink in the great views all around.
Then it was back down again (carefully).
The recce had been a failure due to opaque low fog so from here on it was a case of relying on memories as hazy as Ian's. Despite some mutterings, George charted an original route to get us to the bush marking the track through it to Split Rock.
From here, we traced, in some places originally again, the general route back via a water tank and implement sheds to the side road above the old Asylum buildings to Russell Road and the cars. A good day for seven of us – and for three of whom, a visit to Maori Peak and Split Rock for the first time. We shall generously excuse faulty route memories of the old hands due to the six years' time lapse since the last visit to Maori Peak. – Ian
9. 9/6/2004. Hikers. Seacliff, Maori Peak. Medium. Leaders: Peter and Wendy
8. 23/4/2003. Trampers. Seacliff: Maori Peak, Split Rock. Medium. Leaders: Doug M, Arthur H, Graham.
7. 12/12/2001. Alt. Enchanted Forest – Maori Peak, from Russell Road. Easy. Leaders: Catherine, Margaret D, Val.
6. 18/3/1998. Seacliff and Maori Peak. Leaders: Nancy, Lesley S, Bill H.
5. 4/12/1996. Karitane – Seacliff to Maori Peak. Park at Old Hospital. Leaders: Nancy, Joyce, Peg C.
4. 28/8/1996. Seacliff to Maori Peak. Combined. Park Seacliff Hospital entrance. Average. Leaders: Nancy, Joyce, Daphne.
3. 1/12/1993. Karitane, Maori Peak. Round trip. Medium. Leaders: Catherine, Ria L, Marie, Nel
2. 15/4/1992 Seacliff to Maori Peak. Round trip. Average. Leaders: Daphne, Nancy, Peg A, Stan R
1. 14/4/1989 Leaders: Catherine T, Nancy, Lesley S