Oct 27 2016
Possum Busters and neaby tracks tramps
No. 67 on old hardcopy list of 113 club tramps. "Swampy – Jim Freemans – (J Roy) Summer"
12. 26/10/2016. Both. Round tramp from near Lake Whare. E+. Leaders: Trampers.
The Hikers wished to inspect the work that had been done over the last couple of years by the Track Clearing Group, from our Club. Today's tramp gave them that opportunity.
The clouds remained low all day, but it wasn't cold, and no rain to be unpleasant.
A combined group of 20 Hikers and Trampers departed Mosgiel on time, and travelled up past Whare Flat and parked a little way up Rollinsons Road.
The plan was to do a circuit, taking in the following tracks (or parts thereof) – Swine Spur, Possum Busters, Smithys and the Lake Whare Loop – all being in the bush below, and to the south-west of Swampy.
If possible, it is always best to do the hard work first, so it was up Swine Spur at the start. This is an uphill track, gently up in the swampy "cutty grass flats" area at the bottom, and again further up.
The bush area halfway is the worst, with several good uphill scrambles to contend with. After negotiating this it seemed like a good idea to have morning tea …
… and let all have a rest.
Continuing up the ridge we were out in the open, but the low cloud restricted any view. Very soon we came to the junction with Possum Busters, where we could admire the excellent track signs that Ian Hebbard had made – they would be at every junction that we came to on today's tramp.
We turned right now onto Possum Busters track which still trends slightly uphill for a little before following the contour and descending later. The track was in good order although it crosses a couple of creeks and there were several very wet swampy patches …
… to negotiate.
We passed the bottom ends of Porkies Track, and later McQuilkans.
(By the way, you can find a map of the day's travels on page 5.08 in Antony Hamel's book. Not all tracks are named on his map.)
Soon after passing McQuilkans we had to cross Sligos Creek twice and were soon at the next track junction.
Once again we turned right, now on Smithys Track. It is an "interesting" track with many changes of direction, and is somewhat rougher with several steep, …
… but brief climbs or descents, requiring care. We took our time, there being no rush.
At twelve, we came to a suitable lunch spot. There was room for all to sit beside the track where it was more open to the sky. Quite pleasant in fact.
Lunch consumed, it was onward once more. Along and down. We passed the top end of Steep Track, before eventually turning right to find Lake Whare.
Nice tracks to walk along in this area. One duck moved quietly across the placid waters as we arrived at the lake for a brief rest spot.
Not far now. Around the Lake Whare Loop track, we saw the stone ruins (house?) and the stone wall. Only a few hundred metres more and we emerged onto the road back at our cars.
The whole group had successfully completed the day's tramp, although it would have been tough for those more acclimatised to street walk. But WELL DONE everyone. And I hope you had all appreciated the track clearing that our members had done.
My special thanks to Neil M., in fact to both Neils, for tagging along at the back to keep the troops moving today. Bruce's machine records the day's distance at 6.63 km.
As all the Hikers' tongues were hanging out, a fast trip to Wal's …
… was needed to revive them, the Trampers joining them as well. – Arthur.
11. 20/7/2016. Trampers. Bullring – Swampy Summit Circuit. M. Leader: Arthur.
Several of our regular members were away on grandparent duty for the school holidays and for other reasons, resulting in only a small group of 7 out for our weekly tramp.
After parking at the Bullring, we walked up the firebreak 4WD track to the highest spot where we had morning tea with a view. Some clay parts of the track had been rather greasy on the way up.
A further five minutes took us to the top of the track down to Ben Rudd's Shelter, which we inspected …
… before continuing down the Jim Freeman track.
The tracks down to the Shelter, as well as the Freeman track were rather overgrown in places and greatly in need of a trim up – someone had made a start though.
Due to the track conditions – it was also a bit wet and slippery because of the recent rain – we had to take our time. In fact, it was very slow work going down Jim Freeman.
At the bottom we turned right to follow the Possum Busters track for the next leg of our journey. Someone had been along here recently and trimmed some ferns as well as doing some spade work in places. Possum Busters goes along for a bit before trending up-slope. We were making good time here but I was concerned about the time lost earlier downhill, so decided that it was time to go to "Plan B".
It was with considerable apprehension that I told the group we would shorten our tramp and go up Porkies Track instead of Swine Spur. I knew everyone would be hugely disappointed – and they were! It transpired later that there had been a conspiracy to ensure that the leader did not reach the top of Swine Spur first! The plot was foiled.
And so it came to pass that we ascended Porkies.
Someone had recently made a very good job of clearing this track. As we climbed gently, as the track does, I'm sure that I heard several comments behind me, to the effect that "This is too easy, I wish we had gone up Swine Spur instead, etc, etc." But perhaps I was mistaken.
It was time for lunch when we came to the Swampy Ridge 4WD track at 12.25 p.m. The group spread out a bit, each to find a good sheltered spot out of the cool wind. But it was lovely and sunny.
Within 30 minutes we were on the move, facing towards Flagstaff and home. The track, Swampy Ridge, was a little wet and muddy in places.
We had some good views now, noticing that there was some snow on the Rock and Pillar, and on the Lammermoors. Briefly  the "Taieri Pet" showed itself, although small in size, behind Middlemarch.
We turned off to join the Pineapple Track and followed it to the summit of Flagstaff.
A cold wind was blowing here so we didn't linger long to enjoy the scenery.
Down hill into the cold wind for 20 minutes brought is back to the Bull Ring at 2.20 p.m.
We had travelled 11.6 km and had a good day's tramp, with a good variety. The weather had been ideal – an almost clear, sunny sky, with a westerly wind which hadn't really bothered us. But we were lucky – within 2 hours of finishing, a southerly storm had arrived – wind, rain, cold, the lot! – Arthur H.
10. 23/12/2015 Trampers. Swine Spur, Swampy Ridge, McQuilkans, Possum Busters.
There were 4 trampers on today's tramp into Possum Busters territory. We started by climbing all the way up Swine Spur to the Swampy Ridge road, with a stop for morning tea at the junction with Possum Busters. We then walked along Swampy Ridge Rd. to the top of McQuilkans track, where we had a short break before going down there, & back across the creek onto Possum Busters track, where we turned right, & walked up to the junction with Porkies track, where we had lunch. Then we walked all the way around Possum Busters, past where we had morning tea, & out to Rollinsons Rd. above the locked gate. It was then just a short way back to the cars that were parked further down by the bridge.
A good walk after yesterdays track clearing effort, & an opportunity to see what lies ahead of us for track clearing the rest of Possum Busters, & the bottom end of Swine Spur. – Ken.
9. 19/8/2015. Trampers. Flagstaff McQuilkans Possum Busters.
Starting at the Bullring, we made our way up the walking track to the top of Flagstaff. We took this route in preference to the 4WD track as it has had a dozer over it to cover up the fibre optic cable that hides, or was supposed to be hiding, under it's surface. However, in the past, it has been quite visible in various places, all the way up to Swampy Summit, due to water erosion.
After having morning tea at the Rock Bivvy, we walked along to the joining track, which takes you over to the track leading up to Swampy Ridge Track. This had also been attacked by the dozer, & was VERY muddy & slippery, sending some of us into skiing mode on the downhill sections. I think we all made it along to the top of McQuilkans Track without falling over in the treacherous conditions.
We had a short stop here to discuss what we would do for the rest of the day, & it was decided to go down McQuilkans & find somewhere to have lunch in the sun. So we set of down this newly cleared track [thanks Green Hut Group]] had lunch at a semi-dry/sunny spot,…
…then negotiated the creek crossings to end up on Possum Busters track. Here we decided to head out onto the Flagstaff/Whare Flat Rd. walk up there to the bottom end of Big Rock Track, & go up there to Ben Rudd Shelter. We found the entrance to the track, where Ian H had put in a sign, but it wasn't long before we lost the track, & despite a bit of a search for the correct way up, we gave up, made our way back to the road & walked up there back to the Bullring.
The weather was perfect, with hardly any breeze, & a good temperature. Although a short walk, it was enjoyable. – Ken.
8. 29/4/2015. Trampers. Possum Busters, Porkies, McQuilkan.
7 trampers & Finn the dog turned up to do today's  tramp. 
We made good time into Possum Busters, around to the junction with Porkies track [misnamed Chalkies by the person typing up the tramp list!!] where we stopped for morning tea. Then it was up Porkies track to Swampy Ridge track, where the wind was really starting to pick up, along with the cold. We made our way along to McQuilkans track, & wasted no time getting down into the bush at the top end, where it was much more pleasant. The walk down here was quite good, apart from numerous lots of Lawyer vine, which promises to tear skin off if one is not careful.
Once down on Possum Busters again, it was a short walk back out to the cars, which we reached at about 12:15pm. Neil & Carol kindly invited us back to their place for lunch, but Neil had a reason for doing this, as he needed a hand to unload sheets of Jib Board from the back of his ute, which we gladly helped with.
A good short walk, almost completed before the rain set in. We were only 10mins from the cars when a short shower came through, but it wasn't enough to worry us at all. – Ken.
7. 3/12/2014. Both. Jim Freeman, McQuilkan, Possum Busters, Swine Spur, Rolllinsons Road, Smithies. Leaders: Trampers and Doug.
32, or was it 33 trampers started out the day on the joint tramp [hikers & trampers] by going into the Jim Freeman/Possum Busters track from The Whare Flat- Flagstaff Rd. & making their way up to the junction with Swine Spur track, stopping for morning tea on the way up. We then made our way down Swine Spur track, & due to a missed turn [by me], we ended up on Rollinsons Rd. where we had lunch.
Two of us backtracked a little to find where we had gone wrong, & we found a very small sign buried in the long grass, which we had not seen, even although we walked within a couple of meters of it.
After lunch, we walked down Rollinsons Rd. to the end of Smithies Track, where we negotiated the swampy, smelly ditch beside the road, & made our way along the track to join up with the Possum Busters track again, & back out to the cars, where some of the group were waiting for us, as they had walked around the road from our lunch stop, instead of walking the Smithies track circuit.
I think some found the going a bit tougher than they thought it would be, but in general, most enjoyed the walk, & the pleasant weather conditions helped as well. The amount of destruction caused by last years snow & also the amount of work put in by the Green Hut track group, & others into clearing all the damage,was probably an eye opener for some who had not been in the area since. – Ken.
An addendum … Heb divided the mixed group of Trampers and Hikers into smaller groups of six, each headed by a leader familiar with the trickier aspects of the route. This also obviated long regrouping waits at bottle necks like stream crossings. Further, each group, at set key junctions, was required to wait for the next one to arrive before setting on again. Well done, Heb.
After lunch, some Hikers elected to return to the cars by the easier and direct road route. This was as well for them, as the Smithies  imposed some virtually vertical ascents in earlier stretches, incurring strenuous effort and hard breathing for Hikers less accustomed to such exertions. However without exception, all proclaimed the day a great success, giving Hikers a taste of track condition and distance regularly enjoyed by the Trampers, not to mention introducing many to this particular network of tracks giving navigation through this regenerating bush area, and without whose existence, would quickly get one lost.
And a yet further addition. … As on recent past occasions, we enjoyed the company of several visitors on the day, not the least being Bruce's sixteen-year-old grand-daughter on holiday from Oregon. Those nearby enjoyed listening in to Bruce introducing the aspiring environmental science student to the different New Zealand flora we were passing through on the way. – Ian.
7. 29/10/2014. Trampers. Jim Freeman, Smithies, Swine Spur, Possum Busters, Porkies, Swampy Ridge, Ben Rudd, Jim Freeman.
As our scheduled tramp was cancelled due to DOC not having done any work on the track for many years, & not planning to do anything to it ever again, we decided to do a bush walk in the Whare Flat area.
Five set off into Jim Freeman track, & upon arriving at the junction with Smithies, we decided to go around that way to check out the track conditions, as it had just recently been cleared. We had intended to go to Lake Whare for morning tea, but having taken a wrong turn in the maze of unmarked tracks in that area we found a dry spot & had a cuppa. Moving on from there, we walked along to the bottom of Swine Spur, & struggled up this quite steep track to the junction with Possum Busters track, where the two tracks cross. After a brief spell, we walked back along Possum Busters, past where we had done a lot of clearing work, to the junction with Porkies Track. As none of us had been up this track before, it was to good an opportunity to miss, so we walked up here to Swampy Ridge Track, …
… where we had lunch. Then it was back along here, past the tops of Moon & McQuilkans tracks, & down to Ben Rudds Shelter, where we had a brief stop to chat with a young couple who were in there waiting for a light shower of rain to pass. We then made our way down Jim Freeman track back out to the cars.
An enjoyable day, with new ground covered for all in the group, & the weather played it's part with just a slight hiccup when we got a bit damp while heading to Ben Rudds Shelter.
It was good to see Keith join our group for the first time, & I hope he was not put off from joining us in the future, despite him struggling a bit with a problem knee.
6. 9/7/2014. Trampers. Jim Freeman exploration (incl Lake Whare)
We started off by walking along the Jim Freeman & McQuilkans tracks to the junction with Smithies track, we then turned right, walked along to where McQuilkans crosses the creek. This was to show George exactly where it was, as he couldn't remember.
We then retraced our steps back to the junction, & proceeded around Smithies towards Lake Whare. This was to be an aborted attempt, as we soon lost the track among the storm damaged bush, so once again we retraced our steps, & went back out to the road at the end of Jim Freeman track. Here we had a discussion of what to do next, as it was still not 12:00, so we traveled back down the road to Rollinsons Rd. in the cars, & walked into the bush right at the start of Rollinsons Rd. & made our way around to Lake Whare for lunch. It was very windy & cold here, so we huddled in the lee of a bank, had a quick lunch, & then made our way out onto the road. & back to the cars.
A short walk by our standards, but at least we got out of the wind & cold earlier than expected. – Ken.
5. 16/2/2011. Trampers. Lwr Jim Freeman, Lwr McQuilkans, Possum Busters, Swine Spur, Swampy, McQuilkans, Lwr Jim Freeman. Moderate.
Seven of us parked our vehicles on the Flagstaff-Whare Flat road and as you can see indicated from the GPSed route, walked down a couple of hundred metres to enter the lower Jim Freeman at its muddied lower entrance.  Seasonal growth on the track was heavy, with honeysuckle completely obscuring the  track in places. Where it begins to climb the hill we diverted onto what Hamel's book now marks as the beginning of the McQuilkans, formerly marked by a Les Murcotts sign as 'Smithies'. We crossed the McQuilkans and Sligos Creeks and had a cuppa at the junction where Hamel's 'Smithy's', (formerly Possum Hunters) branches off. A little further on we branched off onto Possum Busters where the curious track marker saying 'Possum Hunters' still remains.We made a wrong turn at a fork a considerable way up, taking an older  track to the right, from which we had to return after getting bushed in heavy flax quite a way on. So we had to humbly return to take the more recent left fork. Silly us! All the swampy bits were there in their watery plenty. The abundant regrowth included its fair share of bush-lawyer too.
We arrived at the Swine Spur track intersection, but as it was only 11.30, took the right turn up the spur and went on to lunch near the top of the steep climb to Swampy. Some of us needed the break!
At the top, we were met with some colder wispy mist but it soon burnt off.
Coming sou-west along the top, we reached the other end of McQuilkans. Decision-point discussion ensued. We elected to take
it
back down rather than the originally-planned Jim Freeman because it got us much sooner into bush and shelter from the sun and one of us had not done that part yet. And so we passed by the 'Possum Hunters'  sign again and then out by the lower McQuilkans and Jim Freeman. (It's been quite an exercise trying to fix Hamel's renaming of tracks into our minds.)
A reasonably stretching day, made moreso with two of us feeling a bit below par. A hard fall by another from a slip on a wet root was a bit of a worry, but has been reported the next day as being not that serious . – Ian.
4. 13/10/2010. Trampers. Jim Freeman, Swampy, McQuilkan, Possum Busters, Lower Swine Spur, Smithies, Lower McQuilkan. Leaders: Ian, Ken.
Only Doug turned up for the leaders to escort around the route. We had cleared the Jim Freeman on the recce so it was a quick climb up with morning tea by the Ben Rudd turn-off.
Then it was along swampy ridge to arrive at the McQuilkan descent.
Down the McQuilkan and a turn right at the Possum Busters, denoted by the track sign faintly mis-titled "Possum Hunters". Up, around and across to join the Swine Spur crossing. It was a pity the manuka trunk holding one of Les Murcott signs had recently fallen over. Lunched there.
A left-turn and down the lower Swine Spur ridge before the plunge off to the right into the bush. A track badly overgrown in one particular place especially, but still marked enough to follow. Finally it was down and out of the bush onto the extensive tussock  swamp and across the old stone wall. We reached ingenious bridge of Les' track-clearers, up into bush, out again into tussock and then a final swing left up into the bush onto what is now all called 'Smithies'.
A winding down and up walk until we reached the junction with the lower McQuilkan and then out to the road, passing the bottom of Jim Freeman again. FWD enthusiasts have made quite a mess of the exit, turning it into a bog. – Ian
3. 14/9/2005 Swampy Circuit: Possum Hunters, Possum Busters, Swine Spur, Swampy Ridge, Fire Break, Jim Freeman. Leaders: Ian, Hazel
2. 27/8/2003. Trampers. Lwr Jim Freeman (frmly Smithies), Lwr McQuilkans (frmly Possum Hunters), Possum Busters, Lwr Swine Spur, Lake Whare, Smithies (frmly Possum Hunters). Easy. Leaders: Ian, Evelyn C, Graham.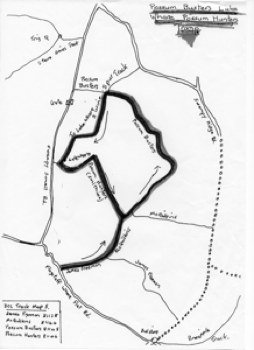 Sketch map of area with original track names, probably by Les Murcott.
1. 9/2/2000. Swampy Circuit from Jim Freeman Track. Leaders: Jack R, Claude, Doug J.