Aug 17 2016
Evansdale, Careys Creek, Honeycomb, Rongomai
Location: 37 km.
From Evansdale Glen. Route. DOC. Stream crossings. Preferably February when water most likely to be low.
Track up Careys Creek alone: an easy walk.
12. 17/8/2016. Trampers. Evansdale Glen, Honeycomb, Rongomai. M. Leader: A Heenan.
Seven Trampers were delighted to discover that some thoughtful person had placed stepping stones to allow us to cross Careys Creek with dry feet, at the beginning of our day's tramp. The second crossing also had the stones.
It was cold walking up the Careys Creek track in the shade, and with evidence that the frost had not thawed for some days in parts.
We stopped at the first sunny spot that was encountered to have our morning tea. It was only a very tiny spot, just adequate but welcome for our purpose.
Continuing on up this very good track, we eventually came to the junction.
A year ago our group did the circuit in a clockwise direction, so to be different (I like being different), we went up the Rongomai Track.
This is always a good dry track, if an energetic climb at the lower end.
Turning left we followed "the old nature trail", the cross track to Honeycomb. This track generally follows the contour, but goes up and down continually, with a number of well placed steps in places. In one place, a large fallen tree proved a little awkward to climb through carefully. Considerable bird song was noted here – Bellbirds and Tuis, etc, and several pigeons were seen. A little Tomtit had kept just in front of us for a short distance, as close as two metres to me.
Coming to the Honeycomb track, we turned left again and following it for a short distance, found our lunch spot bathed in sunshine.
The Honeycomb Track was drier than expected and we made good progress going down, only the last 200 metres or so needing extra care – steeper and wetter here.
Following Careys Creek now, the track was quite wet in places and the air noticeably much colder in the gully.
There are five river crossings along here on the way back to the Rongomai junction.
Care had to be exercised at the crossings as the rocks were just a little slippy. …
… One member narrowly avoided disaster.
Around a further hour's tramp returned the group to the cars, having covered 12.4 km.
Some members of the group wanted to stop at "Blueskin Nurseries" on the way home. In my simplicity(?) I presumed that the lovely spring-like afternoons of the previous days had brought out the 'gardening desire' in some. But the plants and flowers were ignored, the group heading indoors. I tagged along to see what the score was.
I soon found that the score was:- 3 coffees, 2 hot chocolates, 1 tea and 1 juice! Discussion followed, and as noted on previous occasions, has a tendency to include food. Today such culinary delights as lamb shanks, pork bellies, pumpkins, sweet breads and tripe were avidly mentioned.
Personally I avoid tripe myself, although some may suspect that what I write here is a load of tripe(?).
Eventually seven happy Trampers returned to Mosgiel after enjoying a day's exercise in the sunshine and fresh air. We couldn't have had a better day out. – Arthur.
11. 12/8/2015. Trampers. Evansdale Glen, Honeycomb, Rongomai.
Today's tramp was to Evansdale Glen, then up Honeycomb, & back down Rongomai tracks.Now normally this is not a problem, BUT there was still a lot of snow on Flagstaff, &  around my place on the hill, so I was sceptical about our chances of getting up Honeycomb very far. However, after a bit of a conference among the 7 trampers at the carpark, we decided to go & see what was in store for us. As we got over to the other side of the Northern Motorway, it was a different world, no snow, & everything looked really normal.
The walk along to Honeycomb was accomplished with only one member getting wet feet, from the many creek crossings. The track was quite wet & muddy in places, & Honeycomb looked a bit slippery as well. However, we all made it up the steep climb without to much drama, but a few rest periods, & arrived at the junction of the joining track that goes across to Rongomai, where we had another short rest. We then headed off along here to hopefully find a sunny lunch spot on the road at the top end of Rongomai, before the track proper starts into the bush. So we stopped for lunch…
…in a quite sheltered spot just before entering the bush, but if we had gone a little further, we would've found an even better spot!!
After lunch we made our way down to the creek at the bottom of the ridge, & back out to the cars. The day was enjoyed by all, especially the ones who had not been in there before.
An incident free day, with good weather conditions, life is good !! – Ken
10. 16/10/2013. Trampers. Evansdale, Careys Creek, Honeycomb, Mountain Road, Rongomai. Medium.
We parked at Evansdale Glen, walked up the Careys Creek track to the bottom of Honeycomb track, stopping off on the way to have morning tea at one of the drier spots we found. The grass on the track looked like it had been covered with a frost, & the whole track was quite wet, but not as wet as one team member got after slipping on some rocks while crossing one of the numerous creek crossings. Honeycomb is quite steep, as one member found, when the plant he was clutching pulled out of the ground, & he was sent tumbling downhill for a couple of meters, before a handy tree arrested his fall. So there were numerous halts to regroup & get our breathing under control. It does get less steep for the last 1/4 – 1/3 of the climb, & some good views are obtained. We had lunch at the top of Honeycomb …
…  then walked the couple of hundred mtrs. along to the top of Rongamai track, which is now just a forestry rd. This goes down past the shortcut track which goes back across to Honeycomb, & continues for some distance beyond there. It eventually reverts into the original Rongomai track, which follows a ridge, & then as it gets to the toe of the ridge, it steepens greatly, until the valley floor is reached. From here, it is just a reverse walk along the Careys Creek track back to Evansdale Glen.
A good day, with basically no wind, even at Mountain Rd. end, & all 4 of us said it was a good walk, which had never been done by 3 of the party.
9. 18/3/2009. Trampers. Evansdale, Careys Creek, Honeycomb, Mountain Road, Rongomai. Medium. Leaders: Sabina, Ian
It was half a tramp, half a blackberry-plucking expedition as Hazel discretely filled a bag for next weekend's blackberry crumble. Careys creek showed signs of a flood in recent past weeks but its level was down to a tolerable crossing and re-crossing shallowness. A notable hurdle was Bill's aptly-dubbed "Beaver Dam" at the second crossing which we made by precariously struggling over small and large fallen branches.
The first pic shows Rongomai Ridge ahead of us.
click to enlarge
A little while later we reached the junction heralding the beginning of the loop we had decided upon doing clockwise.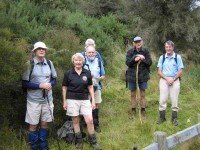 The next pic shows the beginning of the steep climb out of Careys Creek up the beginning of the Honeycomb track, a climb during which at least two of the seven strong group vowed that this was their last tramp here.
We made it across the ridge at the top of the climb and then on further up to the Mountain Road exit. A short walk up the road and it was into and down the Rongomai with a large expanse of clear-felled forest to the left.
Back down to Careys Creek and the blackberry plucking continued with George assisting Hazel, with his long picking-pauses on the trip back filling a hefty bag of berries.
The high-light/low-light of the tramp towards its end was Hazel wrenching an ankle, which proved to be a broken fibula at the ankle on inspection the following day, leading to six weeks in plaster. However she bravely continued to limp along with the benefit of two trekking poles, even to the extent of four of us tackling an exploratory Beaver Dam by-pass track on the creek's true right, a rather hair-raising steep up and down track in places, never to be repeated again.
Best wishes for a p-a-t-i-e-n-t recovery, Hazel. You have joined the recovering-ranks of Tash (ankle broken in three places), and Ken (two broken wrists). Best wishes to you all. Although only you Hazel can claim to have suffered your mishap on a tramp. How you made it back to the cars the rest of us will never understand. – Ian
8. 25/10/2006 Leaders: Peter B, Nelson
7. 16/11/2005. Trampers. Honeycomb, Rongomai. Medium. Bob H, Ian.
[There have also  been six earlier circuits of Honeycome-Rongomai tracks made from Mountain Road but I have managed to lose any record of them!]